Your first order
Nothing could be easier than placing an order on our website at www.swannetoscar.com: just follow the instructions in our guide.
Creating a customer account
Go to the "Your account" workspace and sign up by providing your family name, given name, e-mail address, delivery address, phone number, and so on.
Creating a made-to-measure shirt
To create your shirt, click on "Create your shirt" on the main menu, then start by choosing your fabric, then your collar, your cuffs and the different customisation options that are available through each tab on the page. You can browse between the stages by clicking on each tab or using the navigation buttons in the box on the right-hand side.
Finally, confirm your design by clicking on the "Submit this shirt" button which is located in the summary box on the right hand side of the page.
Taking your measurements
Several quick and simple solutions are available for you to take your measurements.
> Taking your Fitle measurements :
From the FITLE app, create your avatar in less than one minute. Go then on our website to transmit your body measurements.
> Taking body measurements :
Take your measurements on your body directly with the help of a tape measure by following the instructions in our video and photo measurement guides.
> Taking measurements from an existing shirt :
Place your favourite shirt on a table and measure it while following the instructions in our photo measurement guide.
> Simplified measurements :
For a quick and simple solution, choose your off-the-peg size and adjust your neck circumference, the length of your sleeves and the overall length of the shirt.
Invoicing and delivery
You can then choose between two types of delivery address :
> At home (1): If selecting this option, please complete the form provided with your contact details, and the postage and packing charges will be added to your order. You then have the option of saving this address for any future orders.
> In store (2): Select this option and come to collect your shirt from the store of your choice. No postage and packing charges will be added if you select this option.
More information on the Swann shirt stores.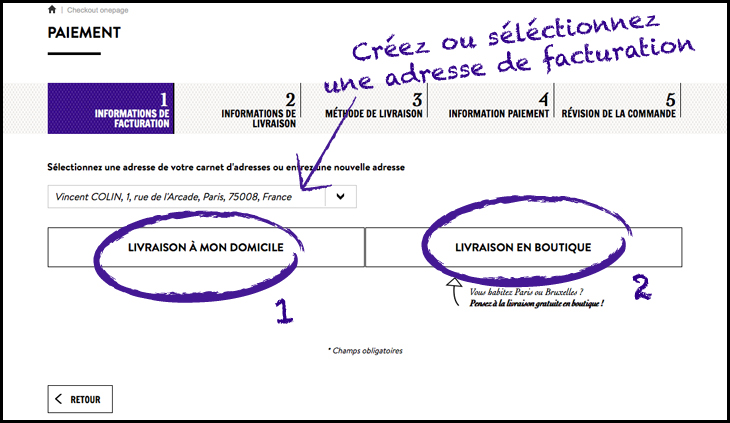 Fill out the form for delivery at your home address.
Select the store of your choice to collect your order.
Payment
Once your delivery options have been confirmed, the site will redirect you to the payment page.
You then have the option of paying for your order by bank card or by gift vouchers that are accepted on the site.
///More information on payment options.///
Order submission
You've almost finished! Once payment has been made, all you have to do is confirm the detail of your order, then click on the "Place my order" button. Your order is then submitted and will be confirmed by our team within 24 hours.